Used Toyota Tacoma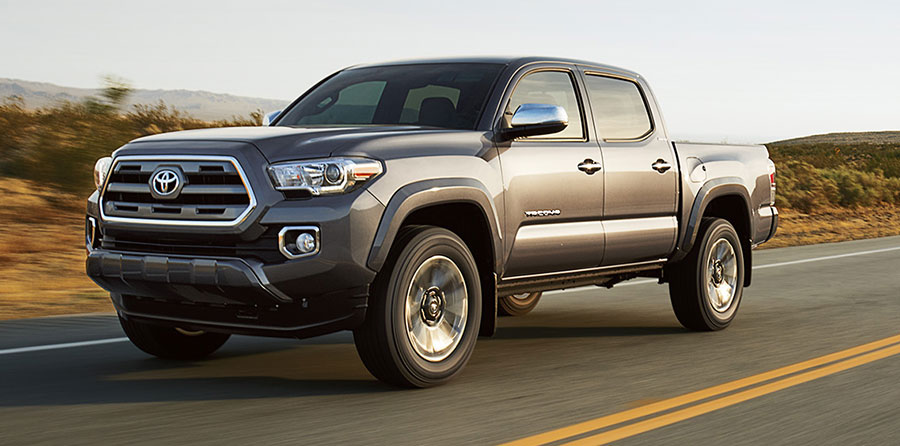 The Toyota Tacoma is a stellar mid-size pickup truck that delivers notable towing utility, off-road performance, and roomy cabin options. Recent used models are a best-in-class pick – especially for drivers who crave the utility of a truck without the heavy footprint of a full-size model. The Tacoma began its run as a compact truck. By the second generation, it became the mid-size vehicle we've come to know and love. For more on how this truck as evolved over the years, check out our used Toyota Tacoma shopping guide.
Used Toyota Tacoma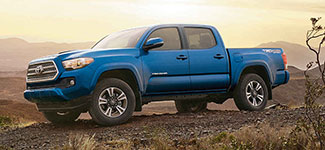 These used Toyota Tacoma trucks are the best yet. They check just about every box – they tow up to 6,800 pounds, coast over rugged terrain, and offer spacious cabin options. Choose between the extended Access Cab and bigger Double Cab. Both provide excellent backseat space. The Double is actually a crew cab – perfect for families on the go. The roomier Double Cab also offers additional configurations: it comes with either the short wheelbase and bed or the long version of both. The Access Cab comes with the short wheelbase and long bed.
When it comes to power, these used Toyota Tacoma models impress with their potent engine options and modern fuel economy. For the best of both worlds, look for two-wheel-drive models with the V6 engine, which earn 19 city/24 highway mpg. The Tacoma's 3.5-liter V6 generates 278 horsepower and 265 pound-feet of torque. Depending on configuration, used Tacomas with this engine can tow between 6,400 and 6,800 pounds. All third-generation, four-wheel-drive models offer low-range gearing, so you can traverse rugged terrain like a pro. Driving enthusiasts will love the manual-transmission TRD Off-Road models, which are specifically designed with trail performance in mind.
Inside, the Toyota Tacoma offers a classic-yet-contemporary design. No matter which cabin you prefer, you'll find plenty of room to spread out. Fold the rear seats to create interior cargo space. This pickup also keeps you connected on the go. The Entune touchscreen interface gives you quick access to smartphone features like call and text. Use voice controls to alter settings without looking away from the road. With the bed-mounted power outlet, you can charge power tools on the job.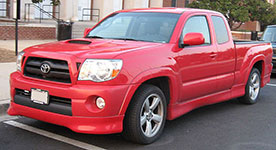 When you're shopping for a used Toyota Tacoma, this generation has a lot to offer. Designed with the off-road ranging in mind, the second-generation models were rugged and powerful. Early second-generation models offered a new 4.0-liter V6 engine that produced 245 horsepower and 283 pound-feet of torque. Properly equipped, V6 models could tow max loads of 6,500 pounds.
Used Tacoma trucks from this generation saw a lot of tech innovations over the years. Recent model years provided a rearview camera to enhance visibility. Toyota's Entune touchscreen display offered access to a wide range of features, including up-to-the-minute traffic and weather updates. Smartphone integration features delivered a strong connection to the outside world.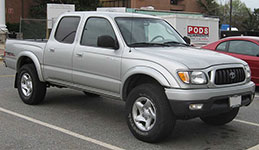 The original Toyota Tacoma offered a range of powerful engine options. Four-wheel antilock disc brakes were available to strengthen stopping performance. Up front, drivers enjoyed height-adjustable seatbelts. By the end of the first generation, shoppers could choose a 3.4-liter V6 engine that delivered 190 horsepower and 220 pound-feet of torque. Properly equipped, a Tacoma with this engine could tow 5,000 pounds.