Used Toyota Camry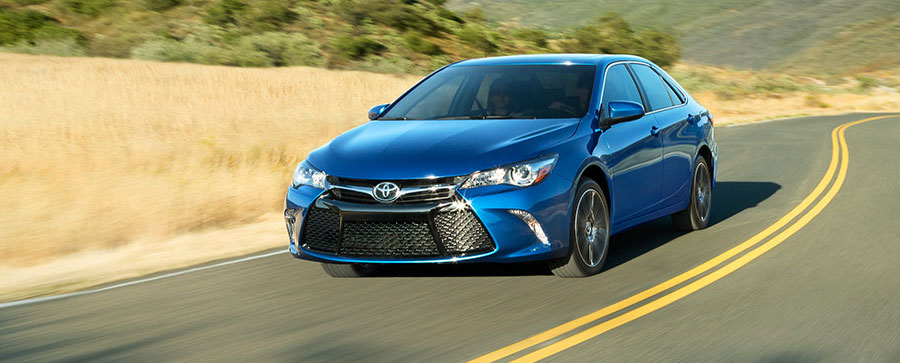 The Toyota Camry is an American-approved, mid-size sedan that impresses with its fuel-efficient ride, upscale cabin, and world-class reliability. It's been around for quite some time, and it's only gotten better through the ages. Inside, you'll find plenty of room for the entire family. Modern renditions offer wide-ranging infotainment features to keep you connected from the road. The used Toyota Camry is also big on safety, making you feel at home on the highway.
Used Toyota Camry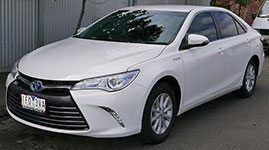 The modern Toyota Camry is the best yet. Used Toyota Camry buyers will love its premium fuel economy, high-tech infotainment gear, and world-class safety. Inside, the Camry is more luxurious than ever. Once again, the Camry feels roomier than previous models. Up front, it's easy to find an optimal position behind the wheel. The rear seatbacks recline at the perfect angle for long-term comfort. Tech innovations, including the Entune infotainment system, keep you connected on the go. Smartphone integration makes it easy to make hands-free calls or stream Internet radio stations.
Under the hood, the Toyota Camry's 2.5-liter four-cylinder engine is more powerful than ever, serving up 178 horsepower and 170 pound-feet of torque. If you're in need of more kick, shop around for the 3.5-liter V6, which churns out 268 horses and 248 pound-feet of torque. Thanks to the new electric-assisted steering, the Camry feels sharp and controlled in any situation.
Safety has come a long way over the years, and the seventh-generation Toyota Camry is a major competitor in this category. In government crash tests, it earned a perfect five-star rating for overall protection. The Insurance Institute for Highway Safety gave the Camry its top score of "Good." For the 2013 model year, the Camry introduced high-tech gear, like blind-spot monitoring, designed to scan your surroundings and alert you to immediate danger.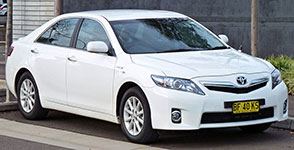 When the sixth-generation Toyota Camry hit the pavement, it offered increased luxury and even greater passenger space. Both front and rear rows provided wide, comfortable cushioning. These used Toyota Camry models were also big on power, modern safety gear, and convenience features.
Here shoppers found modern performance gear and substantial fuel economy. The 2.4-liter inline-four offered 158 horsepower and 161 pound-feet of torque. The Camry's 3.5-liter V6 engine upped the ante with 268 horsepower and 248 pound-feet of torque. With its six-speed automatic transmission, the modern powertrain delivered a smooth ride and swift acceleration.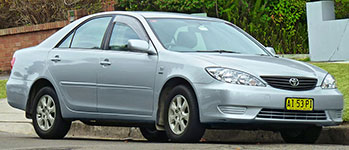 This new Camry offered enhanced aerodynamics and upscale style. It carried on the Camry tradition of growing bigger with each generation – offering an additional 2 inches of wheelbase and 2.5 inches of height. The trunk now supplied 16.7 cubes of total cargo space – more than enough for drivers' sporting goods and road trip luggage.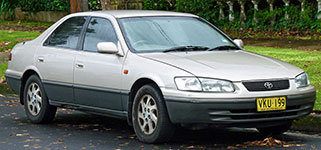 Fourth-generation buyers could no longer choose the two-door sedan or wagon models. Passengers enjoyed increased rear-seat legroom. Under the hood, a 2.2-liter inline-4 delivered 133 horsepower. For increased output, look for the 194-horsepower V6 engine.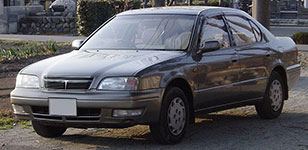 On its third time around the block, the Toyota Camry was bigger than ever; its increased dimensions delivered excellent head- and legroom. It also offered improved noise reduction and a quieter highway ride. The new 2.2-liter four-cylinder engine boasted 130 horses and a smooth performance. Shoppers could also choose the V6, which delivered 185 horses and went from 0 to 60 in less than 8 seconds.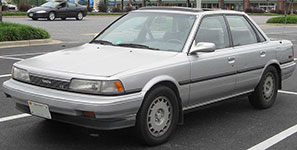 These models improved upon previous renditions with increased engine output – 115 horses – and a sleek exterior design. Toyota introduced a wagon model for impressive passenger space. In 1988, the Camry could be had with a V6 engine for the first time. Available all-wheel drive maximized traction on slick roads.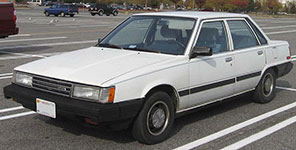 The original Toyota Camry brought a dose of modernity, with front-wheel drive and generous cabin space. At the outset, the Camry derived its power from a 2.0-liter four-cylinder engine rated for 92 horsepower, surpassing rivals like the Accord. In 1985, Toyota revised the engine so it produced 95 horses.