Dive into Adventure with the 2018 Toyota RAV4 Adventure Grade
Dive into Adventure with the 2018 Toyota RAV4 Adventure Grade
The Toyota RAV4 has proven its popularity over and over again, with sales that make it one of the most popular SUVs in its class. Can it do even better? The answer is yes, with the brand-new Adventure Grade.
With the addition of the new Adventure Grade, the RAV4 offers six trim levels to buyers. The Adventure Grade comes right in the middle, keeping the MSRP below $30K and the features impressive enough to please even the most discriminating buyer.
What's Different about the RAV4 Adventure Grade?
The features in the RAV4 Adventure Grade are perfect for outdoor enthusiasts–or people who miss the freedom of being able to strike out on an adventure whenever the fancy hits them. For example, the exterior of the Adventure Grade includes over-fender flares and 18-inch black alloy wheels. The tires are off-road ready, and the RAV4 Adventure Grade has a higher ground clearance than other models so that any fun you have outdoors is less likely to cause issues later. You can also add in a dynamic torque control all-wheel drive package, or enjoy the front-wheel drive with the standard Tow Prep package.
The inside of the RAV4 Adventure Grade is equally enticing, with design features that include carbon fiber trim and Adventure logos throughout. The smartly designed cargo areas include all-weather mats and a power outlet. Of course, the RAV4 Adventure is also perfect for city life, with a comfortable interior, infotainment system, and impressive fuel economy for a car in this class. Tack on an available backup camera, the upgraded Entune system, and heated seats and you'll be hard-pressed to find a more comfortable way to navigate your daily commute.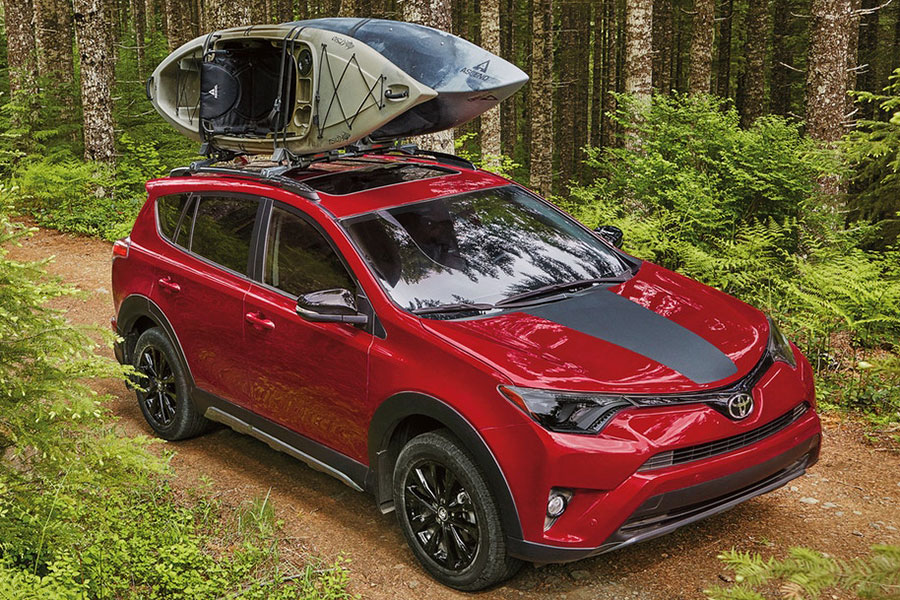 Are You Looking for Adventure?
If you're in the market for a new spin on an established SUV, take a look at the 2018 Toyota RAV4 Adventure Grade. At Swope Toyota, you will have a one-of-a-kind dealership experience. We are committed to you, our customer, and we make the process as easy and enjoyable as possible. You'll feel at home at Swope Toyota, and don't forget the Swope Total Satisfaction Guarantee! Ask for details–and come check out the RAV4 Adventure Grade at Swope Toyota!