2019 Toyota Corolla Sedan
2019 Toyota Corolla Sedan
Count on the 2019 Toyota Corolla sedan for a roomy, smooth-riding, budget-friendly driving experience.
Why buy the 2019 Toyota Corolla sedan?
With Toyota's longstanding reputation for dependability, the Corolla is a great choice for drivers who want to hold onto their car for years to come. Compared to rivals, the Corolla also features an impressive list of standard comfort and convenience features. Inside, you'll find generous passenger space – enough that the Corolla can easily serve as a comfy carpooler or road-trip warrior. Backseat space is abundant, so loading up the cabin with your tallest friends won't be an issue.
What 2019 Toyota Corolla trim models are available?
At the dealership, you'll find six nicely equipped Toyota Corolla trims. The entry-level L is quite the bargain, setting you up with an impressive array of modern tech features. These include automatic emergency braking to help keep you and your family out of harm's way. The standard LED headlights are another nice touch, offering generous outward visibility and helping other vehicles spot you late at night.
Upgrade to the LE for a little extra comfort and convenience. With one press of a keyfob button, the LE's keyless entry technology supplies easy access to the cabin. The automatic climate control system does an excellent job of maintaining your preferred temperature.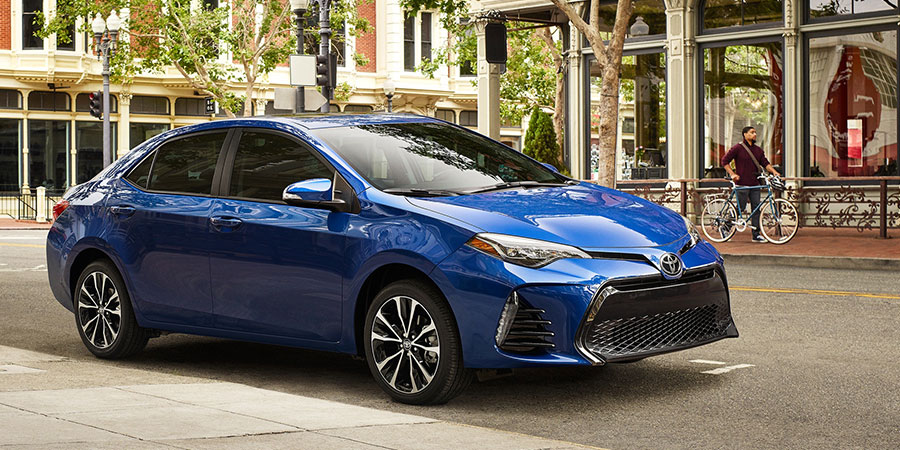 The LE Eco is unique among the Corolla trim models because it comes standard with an exclusive powertrain and aerodynamic enhancements. These unique features bring the Corolla's EPA ratings up, delivering 30 city/40 highway mpg.
When you choose the SE, you have the option of replacing the continuously variable transmission with a sportier manual transmission. In addition to giving you greater control over performance, the SE's sporty exterior styling turns heads on the highway.
The Corolla XSE and XLE models are the luxury versions of the SE and LE, respectively. These models add to the SE or LE lineup with Toyota's SofTex faux leather upholstery. In addition to interior style, the XSE and XLE bolster convenience with keyless entry and ignition technology. The XLE features cozy heated seats, but the XSE sticks with the SE's snugly supportive sport seats.
Is the 2019 Toyota Corolla safe?
You can count on the Corolla for excellent crash-test scores and a long list of standard driver aids. In government crash tests, the 2019 Corolla earned a a href="https://www.nhtsa.gov/vehicle/2019/TOYOTA/COROLLA/4%252520DR/FWD">perfect five-star rating for overall protection.
All Corolla trim models feature the Toyota Safety Sense bundle. This collection of high-tech driver aids was engineered to help you avoid danger. The forward collision warning system's automatic braking feature is quick to react when it senses an oncoming crash. This technology even recognizes pedestrians, so you can stay safe in dark parking lots and busy downtown streets. The lane departure warning system doesn't just tell you when you've accidentally strayed outside the lane, its steering assist feature actively nudges you back onto the right track.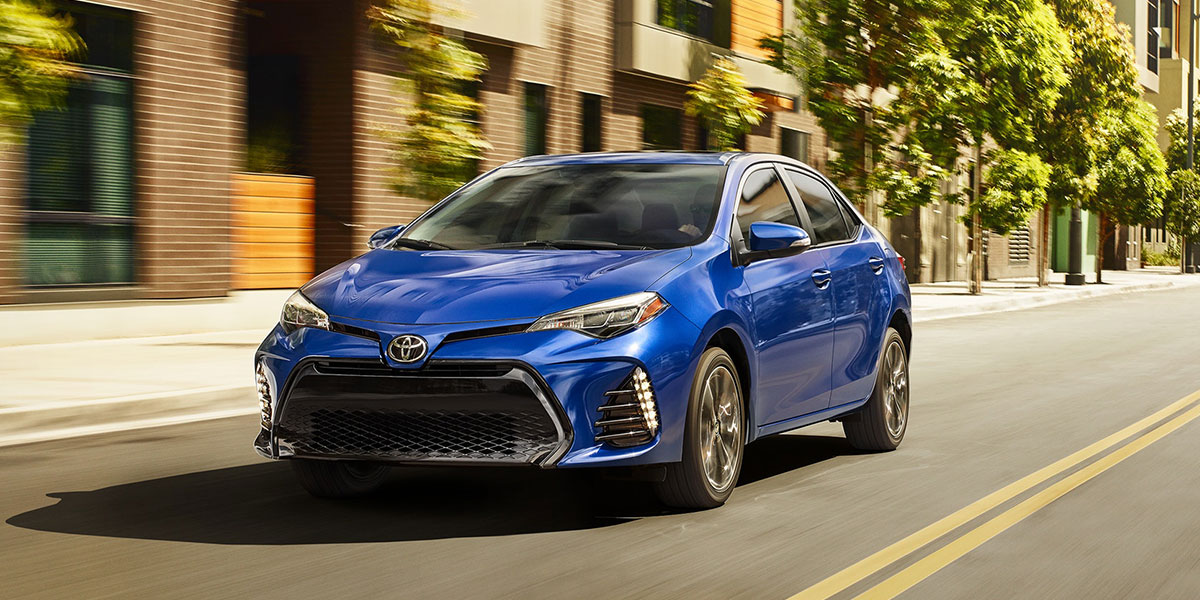 Is the Corolla fuel-efficient?
If you're after a thrifty ride, check out the 2019 Toyota Corolla LE Eco sedan. Unique powertrain and aerodynamic enhancements help this Corolla achieve max fuel ratings of 30 city/40 highway mpg.
The rest of the Corolla lineup also strives to balance everyday power with proficiency. With the continuously variable transmission, these sedans earn impressive EPA ratings of 28/36 mpg. Either way, you're looking at a fuel-efficient commute.