2017 Toyota Tacoma vs Ford F-150

With the 2017 Toyota Tacoma and Ford F-150, you're getting massive utility and modern comfort in two different sizes. The mid-size Tacoma is the segment sales leader, appealing to drivers with its rugged off-road capabilities and dependable performance. The F-150 is a popular full-size truck, beloved for its cutting-edge design and powerful engine lineup. Which is right for your needs? Read our comparison guide to get the details.
2017 Toyota Tacoma vs Ford F-150
Power & Performance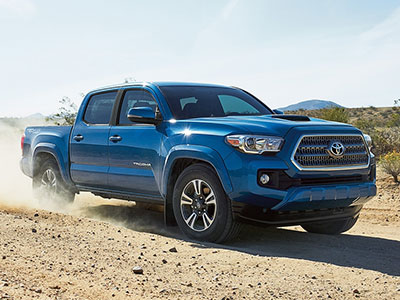 In the 2017 Ford F-150, you've got some serious towing and hauling power at your command. Depending on powertrain and body configuration, the F-150 can tow up to 12,200 pounds. It'll get your family camper and boat around with ease. In spite of its status as a full-size model, the F-150 also earns excellent fuel economy, with EPA ratings of up to 19 city/26 highway mpg.
In the 2017 Toyota Tacoma, you can expect tow ratings that befit the mid-size segment. Depending on configuration, this truck tows up to 6,800 pounds, which is great for boat owners and four-wheeling outdoorsmen. While the F-150 is designed to tow major workloads, like heavy machinery, the Tacoma is better for adventure-minded drivers. It earns up to 19/24 mpg, so you can expect to make the most of your gas money.
Off-Road Ride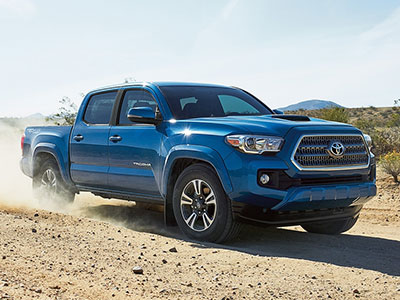 Because it's smaller and lighter, the four-wheel-drive 2017 Toyota Tacoma feels more agile on off-road paths. The specialty TRD Off-Road Tacoma should be your first pick for truly adventurous runs down sandy dunes and up boulder-heavy mountains. It comes standard with all the hardware you need for a rugged ride, including a locking rear differential and crawl control.
The F-150 also features a specialty off-road model – the Raptor. However, with an MSRP of $49,265 (compared to the TRD Pro's thriftier $41,215), you might not be able to pull the trigger. Also, as a bigger model, this pickup can also feel a little unwieldy in tight spots.
Safety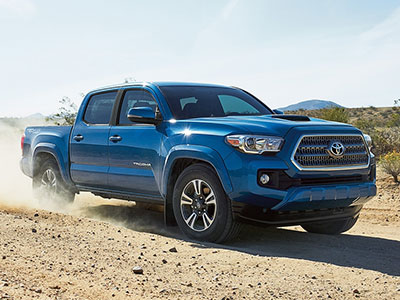 The 2017 Toyota Tacoma is our pick for passenger protection. All models come with a backup camera, so you can spot smaller obstacles in the road before you run them over. High-tech gadgets, like the blind-spot monitoring system, help you avoid making careless mistakes by alerting you to nearby danger.
In the Ford F-150, you get a lot of the same features – you just end up paying more for them. The rearview camera isn't standard equipment, but you do you get the added option of a 360-degree camera system, which displays a top-down view as you glide into parallel spaces. This full-size truck also features a number of high-tech driver aids, including a forward collision warning system that lets you know when you need to slow down.
Creature Comforts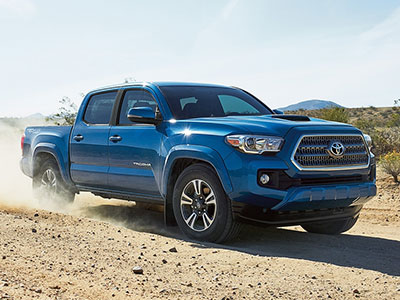 Choose between the Tacoma's extended and crew cabins for the passenger space that suits your needs. Both models provide backseat accommodations, with the latter serving as an especially family-friendly people hauler. In addition to generous head and leg room, the Tacoma serves up luxuries like heated, leather-trimmed seating at a great price.
With the F-150, you get the added option of a regular cabin, with bench seating for three passengers. The line's extended and crew cabins impress with their generous dimensions – it's hard to find fault here. This model also offers varying levels of luxury, from workhorse basics up to posh, stylish leather upholstery. However, you'll save more by purchasing these same features on the Tacoma.
Learn More about the Toyota Tacoma

Although the F-150 provides serious pulling power, the 2017 Toyota Tacoma is better suited to drivers and families who crave off-road adventure that doesn't break the bank. Straight off the lot, this mid-size model is much more affordable than the F-150. It's also packed with all the modern tech and comfort features you crave. And, with its advanced safety options, you can remain vigilant in heavy traffic.