2017 Toyota Sequoia vs Chevrolet Suburban

Your family is growing and you need more space in the car. You need that third row of seating but you don't want to be one of those minivan families. If this is you, a third row full sized SUV, like the Toyota Sequoia or the Chevrolet Suburban, is going to be your best bet. But which one will work best for you and your needs?
2017 Toyota Sequoia vs Chevrolet Suburban
Affordability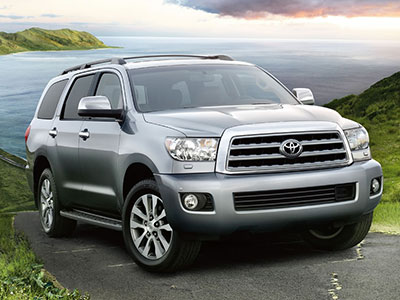 Price is a big factor when considering which vehicle to buy. If you want the power and space of a spacious third row SUV, you're obviously going to have to pay for it. This is especially true if you're buying them brand new, which is a luxury that can give you a fully loaded SUV with features galore. The Suburban's pricing will start off at a little more than $49,000, which can be quite the sticker shock.
The Sequoia starts off at around $46,000, a pretty impressive price difference that you'll see consistently through the trim levels. If you're concerned about your budget, the 2017 Toyota Sequoia is the full-size SUV option you should consider.
Dimensions and Driveability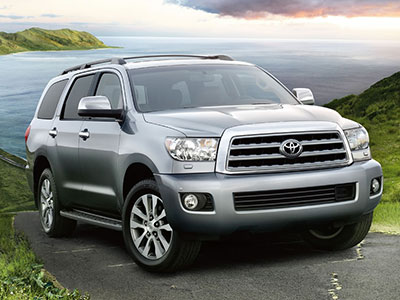 The price of the Suburban could possibly be more because it is more than a foot and a half longer than the Sequoia. What happens with this extra room? The Chevrolet Suburban has a little more trunk space but not much more legroom, which might be a surprise. Longer length and a wider wheelbase does, though, give the Suburban extra towing power of up to around 6,300 lbs.
The 2017 Toyota Sequoia has a smaller wheelbase and a little less legroom, which adds up to only about an inch or so per row. What the smaller profile means, though, is easier driveability. The Sequoia is the right option for you if you're wanting the extra space of a third row SUV but aren't quite ready for driving and parking something that's more than 18 feet long. The Toyota's handling, turning, and parking is much easier than the Suburban's.
Technology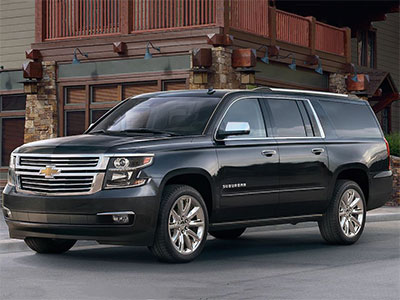 Technology is an integral part of our daily lives, so it makes sense that it should be an important part of your SUV as well. The 2017 Toyota Sequoia comes with a touch screen that allows you to run your integrated navigation system and a number of apps right from your console, allowing you to navigate more easily. An available entertainment system for the back seat makes long trips a breeze for back seat passengers, who can watch a movie and listen on their wireless headphones.
The Suburban has all of these tech features plus more. The Suburban has a viewing screen for both the second and third rows and the option for an in-car LTE Wi-Fi so everyone riding can connect their devices without using their data. Where the Suburban pulls even farther ahead is with the MyChevy app. The MyChevy app lets you turn your vehicle on from the app and get your A/C going before you get there. It allows you to check diagnostic info to see what's going on with the engine, set parking reminders so you don't lose it, and even more. The Chevrolet clearly pulls ahead in this category.
Warranty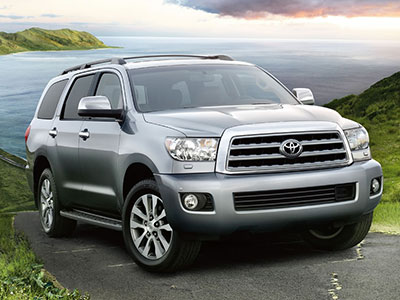 The Suburban has a great warranty program. You'll get a bumper-to-bumper warranty for 3 years or 36,000 miles-whichever comes first. So, you can feel confident that any problems that you encounter will be handled easily. Chevrolet stands behind their vehicles, which should give you a tremendous amount of confidence.
The 2017 Toyota Sequoia comes with the same 3 year/36,000 mile warranty that the Suburban does, as well as the same confidence and guarantee. Toyota adds to this warranty the incredible ToyotaCare package. ToyotaCare offers, with each new vehicle, complementary maintenance for 2 years or 20,000 miles in addition to the 3-year/36,000 mile warranty. So, a new Toyota will save you money in car payments and in maintenance costs.
Learn More about the Toyota Sequoia

When you're looking for a full sized SUV, the 2017 Toyota Sequoia should be at the top of your list. While both the Suburban and Sequoia offer you capability and passenger space, the Toyota Sequoia gives you a more easily driveable vehicle with additional money-saving perks in your pocket. You'll fall in love with the Sequoia.