2017 Toyota RAV4 vs Hyundai Santa Fe Sport

If versatility and sporty style are high on your list of priorities, the 2017 Toyota RAV4 and Hyundai Santa-Fe Sport are your best bets. At first glance, it might be hard to pick out the differences between these two models. Let us help with our head-to-head comparison guide.
2017 Toyota RAV4 vs Hyundai Santa Fe Sport
Long-Term Comfort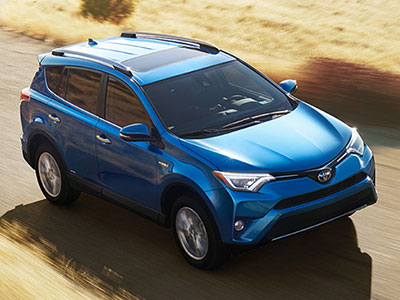 At the end of a long day, the RAV4's soft, supportive seating is exactly what you need to make it through your jam-packed commute. If you're part of a budding family or travel-loving social crew, your favorite passengers will certainly appreciate the roomy backseat. Not only that, but the RAV4 suspension is tuned for maximum ride comfort, giving you smooth, quiet on-road experience.
Space is one of the benefits of the Santa Fe Sport as well, with generous head and leg room that will benefit both driver and passengers. One potential pitfall of the Santa Fe Sport is its wide roof pillars and smallish rear window, which cut down on rear visibility. Be extra vigilant as you pull out of your driveway and parking spaces!
Passenger Protection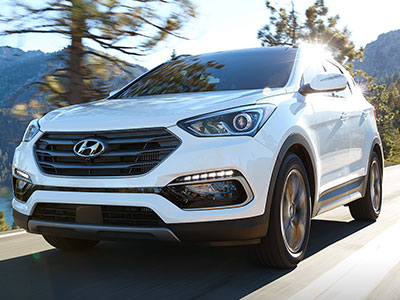 Here the Hyundai Santa-Fe makes headway with its incredible crash-test scores. In government crash tests, it earned a perfect five-star rating for overall protection. The Insurance Institute for Highway Safety gave the Santa-Fe Sport's forward collision mitigation system a rare score of "Superior" – a level up from the organization's top score of "Good." The forward collision mitigation system is designed to mitigate damages or forgo a crash altogether by automatically applying the brakes when it senses an oncoming accident.
While the RAV4 scored five stars for overall safety, it only got four in frontal crash tests. On the up side, though, this year is the first for the RAV4's high-tech driver aids. Its lane departure warning system, for example, alerts you when you've accidentally drifted outside the proper white lines.
Everyday Utility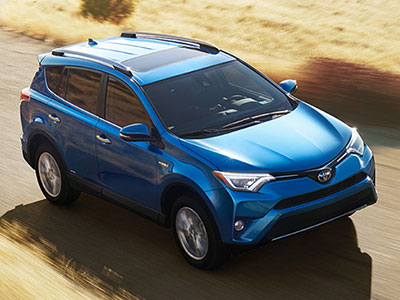 The RAV4 isn't merely the most comfortable small crossover on the block – it's also big on utility, with class-leading cargo space. Behind the seats, there's 38.4 cubic feet for your cargo needs, which is more than enough to haul weekend bags and tennis gear for the entire family. The power liftgate – a rarity in this segment – makes loading and unloading a snap.
The Santa-Fe Sport trails the RAV4 in terms of cargo space, but it also offers its own brand of utility. For example, you might like its clear-cut, easy-to-reach controls, which make it easy to control stereo volume and cabin temperature.
Fuel Economy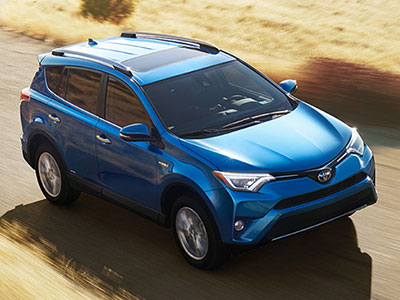 If you're on a budget, the RAV4 is on your side. It earns 23 city/29 highway mpg, so you can spend money on things besides fuel – or simply add a little to your savings account. In spite of its thrifty performance, the RAV4 always delivers quick acceleration, and highway merging never feels like a chore.
With the Santa-Fe sport, you'll earn up to 21/27 mpg, depending on which powertrain you select. As with the RAV4, you can add all-wheel drive to your Santa-Fe for increased traction on slick surfaces, such as icy pavement. Note that adding the all-wheel-drive system drops fuel economy numbers by about 1 mpg.
Learn More about the Toyota RAV4

When it comes to modern style and comfort, the 2017 Toyota RAV4 is a cut above the competition. Whether you're searching for a rare campus parking spot or stuck downtown in rush-hour traffic, the RAV4's spacious, supportive seating is up to the task of maintaining long-term comfort. Utility features – including a power liftgate – make life simpler. Finally, this model makes the most of what you spend at the pump, which means greater savings for you.