2017 Toyota Prius

Class-topping fuel economy and streamlined comfort are just a few of the perks of owing a 2017 Toyota Prius. There's certainly no better choice if you want to spend less on gas – this four-door hatchback earns 52 mpg combined.
2017 Toyota Prius
The first thing everyone thinks of when they envision the 2017 Toyota Prius is fuel economy. In fact, it's basically the gold standard in moneysaving fuel mileage. Earning 54 city/50 highway mpg is certainly something that everyone can appreciate. This newfound gas mileage domination means that you can put your money where it matters, whatever that means to you. Increase the number of vacations you take or put your extra cash toward quicker debt relief-whatever works for you. When you choose the Prius Two Eco – the line's especially thrifty model – you can earn an astounding 58/53 mpg, nearly double the mpgs of a standard sedan.
While everyone knows that the 2017 Toyota Prius is all about fuel savings, many may not know that, after the new generation appeared last year, the Prius as a whole has only gotten more appealing. The cabin is now home to more upscale materials, so you can say good-bye to unrefined plastics. The sleek modern speedometer and gauge array sits high in the center of the dash, displaying vital stats with crisp, clear graphics. Choose the head-up display to project gauge data onto the windshield, a fabulously tech-geeky feature that is wildly practical while driving in conditions that force careful attention to the road in front of you but you still need to know how your vehicle is performing.
Throughout the 2017 Toyota Prius cabin, you'll find that there's never any shortage of elbow room. That means that, on your next road trip, you'll save big on gas and enjoy comfort and support all the way to your destination. The Prius cargo hold impresses with 24.6 cubic feet of cargo space. That's plenty of room for everything you need to get through the day – be it your gym bag, soccer supplies, or your latest grocery haul.
A supremely energy-efficient car like the 2017 Toyota Prius can't help but be highly technical. Luckily, you don't have to be a tech genius to figure out the cabin's Entune infotainment system. It provides the smartphone integration you need to call home with no hands or stream tasteful music compilations for friends. Some of the Prius's high-tech features are downright luxurious – like the heated front seats on a cold winter day.
As if all that weren't enough, the 2017 Toyota Prius puts a premium on passenger protection. For the first time, all Prius models come standard with the Toyota Safety Sense package. It includes an array of driver aids designed to monitor the road around you and give you immediate feedback on potential danger. The forward collision mitigation system, for instance, automatically applies the brakes to mitigate – or even avoid – an oncoming crash. With the Safety Connect emergency telematics system, you can count on help when you need it most. It includes features like automatic collision notification and stolen vehicle location. Although it's a subscription-based feature, you get a free one-year trial with your Prius Four or Prius Four Touring model.

Prius Prius C & Prius V
The Prius C and Prius V offer a different set of solutions for unique buyers. If you live in an urban area, the Prius C was designed to be your perfect fit. It still delivers the same space for five passengers and world-class fuel economy (46 mpg combined) – but it also comes in a more compact form. Its slimmer body is optimal for zigzagging through busy highways or snagging tight parallel parking spaces. The Prius V is basically the Prius C's foil. Its wagon body style greatly expands your interior resources, treating families to SUV-like elbowroom and cargo space (34.3 cubic feet!). It's a great pick for families who tend to travel often, with a lot of stuff along for the ride.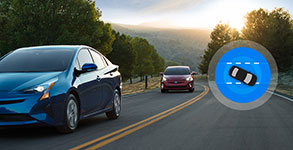 Toyota Safety Sense
Driver aids like forward collision mitigation are now standard on all models.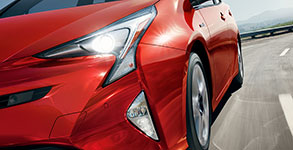 Stylish LEDs
Your Prius always looks good – but that's especially true after dark.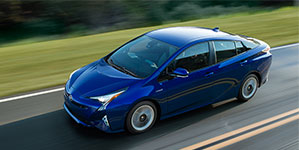 Thrifty Performance
When it comes to fuel savings, the 2017 Prius is at the top of its class.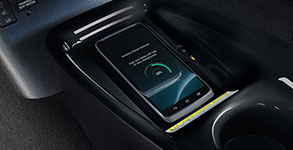 Wireless Charging
Forget the charger cord? No worries here. To keep your smartphone battery up to snuff, just place it on the wireless charging pad.
Conclusion
If you have your eye on the 2017 Toyota Prius, you probably don't need us to tell you that it earns 52 mpg (or more with the Prius Two Eco) because fuel economy is the Prius's claim to fame. However, in addition to saving big on gas, you'll be pleased to discover the cabin's high-quality build and roomy seating arrangements. With plenty of room for up to five passengers, the Prius will be your first choice for family outings, highway commutes, and grocery-getting.