2017 Toyota Camry vs Ford Fusion

The 2017 Toyota Camry and the Ford Fusion are two of the most popular mid-size sedans available today. Drivers love their spacious, cushy cabins, high-tech infotainment features, and excellent safety standards. Before you decide which one is right for you, however, you should check out our comparison guide. In it, we discuss some of these two models' biggest differences.
2017 Toyota Camry vs Ford Fusion
Cabin Space and Comfort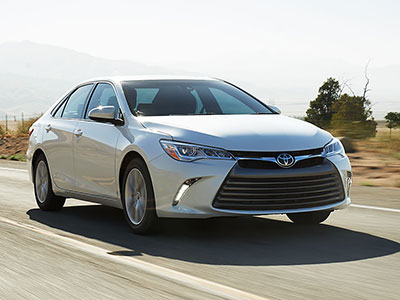 Inside, the 2017 Toyota Camry feels nothing short of lavish. You'll love its plush seating and generous passenger space. High-quality materials, like leather upholstery, make you feel like you've spent big bucks on a luxury sedan. The big backseat is perfect for growing families.
The Fusion offers its own unique style, which includes stylish trim and soft-touch surfaces. The driver seat is big on adjustments, so you can find the perfect position behind the wheel, no matter your height. The Fusion may not be as big on backseat head- and legroom as the Camry, but cushioning is comfortable and supportive.
Tech Features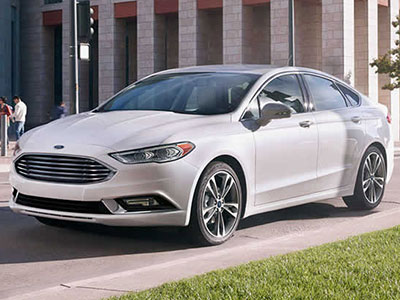 The Ford Fusion has the edge here. We especially like its new Sync 3 infotainment system, which includes a responsive touchscreen interface and convenient voice controls. The Fusion also provides a 110-volt power outlet, so you can plug your favorite devices in and stay connected on the go.
Still, the Toyota Camry proved difficult to beat. Modern drivers will love its Entune infotainment options, which provide smartphone integration features like Siri Eyes Free. Voice controls come in handy when you're cruising busy highways. Satellite and HD radio provide seemingly endless entertainment options.
Passenger Protection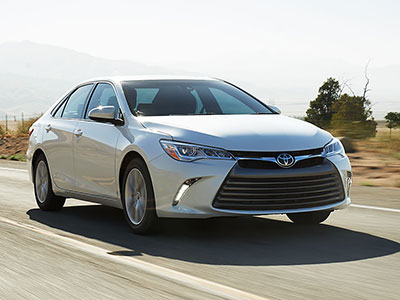 Once again, the 2017 Toyota Camry pulls ahead. In government crash test, it earned a perfect five-star rating for overall protection. High-tech gear, like the blind-spot warning system, monitors your surroundings and alerts you to potential danger. The rearview camera displays any obstacles in your path.
The Ford Fusion also offers its share of innovative features. The MyKey system is great for parents, because it lets them set speed limitations for teenage drivers. The Fusion also pairs with your smartphone to automatically dial 911 after an accident.
Fuel Economy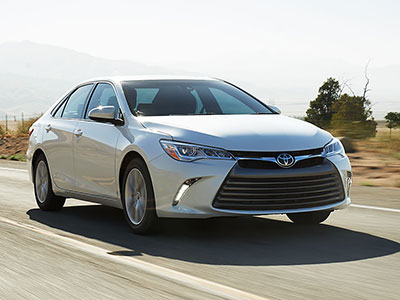 To save the most money at the pump, choose the Toyota Camry. It earns up to 24 city/33 highway, making the most of your fuel mileage in any situation. The Camry also combines modern fuel economy with smooth acceleration, getting you up to speed in a snap.
The Fusion follows closely behind, earning 22/34 mpg with its base powertrain. Like the Camry, the Fusion makes a point of blending substantial fuel-efficiency with impressive power. We like its responsive handling, which helps you get around town without a hitch.
Learn More about the Toyota Camry

The Ford Fusion is certainly an impressive option, but the 2017 Toyota Camry has the overall edge. We love its rich interior comfort and high-tech infotainment options, all of which makes you feel at home on the road. When it's time to hit the highway, the Camry feels smooth and composed. You'll save big at the pump, too, because the Camry offers excellent fuel economy. Take the Camry for a test drive today!