2017 Toyota Camry Hybrid vs Hyundai Sonata Hybrid

The 2017 Toyota Camry Hybrid and Hyundai Sonata Hybrid are proof that going green doesn't have to put a dent in your style. These models do much more than save you a bundle on gas and help make the world a less-polluted place – they're spacious and even luxurious. Before you choose between them, check out our comparison guide to learn more.
2017 Toyota Camry Hybrid vs Hyundai Sonata Hybrid
Room to Grow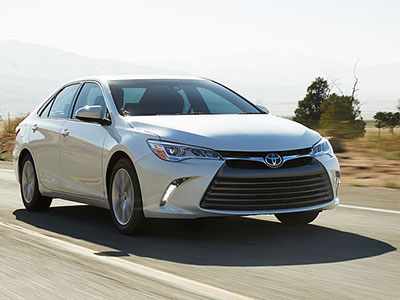 The 2017 Toyota Camry Hybrid is the perfect pick for families in all of their growing stages, because both rows supply generous head- and legroom. If you plan to hang onto your hybrid for years to come, you don't have to worry about whether your future teenager will fit in the backseat.
The Sonata Hybrid's rear accommodations can be a little tight on headroom. Still, as in the Camry Hybrid, you'll find soft, supportive seating throughout the cabin, so you don't have to worry about running short on comfort, no matter how long you plan to stay on the highway.
Innovative Safety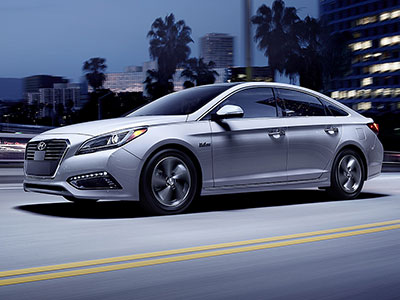 The Sonata Hybrid caught our eye here, because it offers unique innovations in addition to the usual driver aids. Because hybrids are so quiet, the Sonata Hybrid offers a virtual engine sound system. At speeds under 20 mph, the system broadcasts engine noise from front-mounted speakers to alert nearby pedestrians to your presence which is important in neighborhoods where kids are at play. The Sonata Hybrid also includes the Blue Link telematics system, which supplies important safety-net features, such as automatic collision notification.
Although it didn't come out on top here, we shouldn't underestimate the Camry Hybrid's take on passenger protection. Like the Sonata Hybrid, it earned a perfect five-star rating in government crash tests. It, too, supplies the standard driver aids, which are certainly a boon in heavy traffic. The forward collision alert system, for example, detects an oncoming crash and warns you to slow down.
Fuel Economy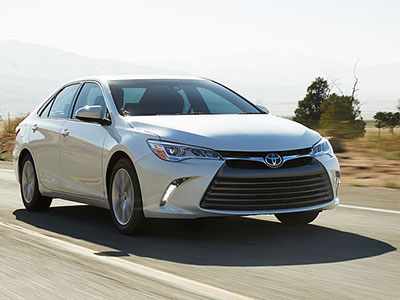 For around-town driving, the Camry Hybrid can't be beat. It earns up to 42 city/38 highway, which means you can most likely travel to work and back for the cost of a gallon of gas – or less. Unlike most standard vehicles, the Toyota Camry Hybrid actually gets better gas mileage in town rather than on the highway, which is what real life driving looks like for most Americans. With fuel savings like this, you'll find yourself with more money to spend on actual fun.
The Sonata Hybrid provides up to 39/45 mpg, depending on which model you select. That's not quite as much leeway in around-town scenarios, but, if you live close to a highway, you might reap benefits here.
Modern Convenience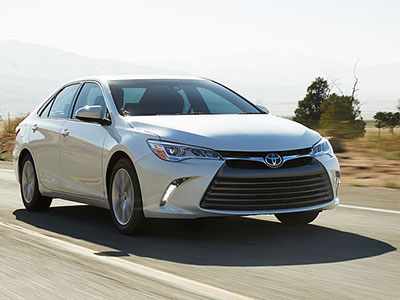 If you ever lose your way, the Camry Hybrid's brand new Entune Audio Plus entertainment system comes in handy with its smartphone-based navigation app. This system also includes a 7-inch touchscreen with crisp, clear graphics, so sorting through its menus won't distract you from the road ahead. The Camry Hybrid also offers a wireless charging pad, which keeps your smartphone ready for action, in case you need to call home and say you're running late.
In the Sonata Hybrid, the infotainment system can be a bit of a reach from the driver seat. However, the Sonata Hybrid comes with a gauge cluster that displays hybrid system data, so you can keep you track of real-world fuel economy numbers and budget accordingly.
Learn More about the Toyota Camry

When you want all the perks of driving a hybrid – and then some – put the 2017 Toyota Camry Hybrid at the top of your wish list. The Camry Hybrid doesn't just save you money at the pump, it provides roomy, family-friendly accommodations so your daily run-around never feels cramped.