2019 Toyota Corolla Hatchback
2019 Toyota Corolla Hatchback
While the Corolla sedan is carrying over unchanged from 2018, the 2019 Toyota Corolla Hatchback is completely redesigned. And, wow, what a change. In this preview guide, we'll show you what's rolling into Toyota dealerships later this year. We think hatchback fans, regular commuters, and quite a few others are going to want to pay attention.
How Does the New Corolla Hatchback Look?
Unlike some redesigns that take place under the skin, this hatchback is different outside and in. The exterior is significantly overhauled, letting you know this is not your parents' hatchback. The 2018's narrow grille is now an open maw, ready to eat up the road. The Corolla's headlights have a distinctive winking-teardrop shape and a nose that is simultaneously lean and blunt with a devilish scowl between the hood and grille. LED tail lights grace the rear, with that classic hatch. It sits atop a black field where the license plate hangs above two exhaust pipes. We like the Corolla best in popping Blue Flame, but other colors also stand out, like the refined Oxide Bronze and the ultra sleek Midnight Metallic Black.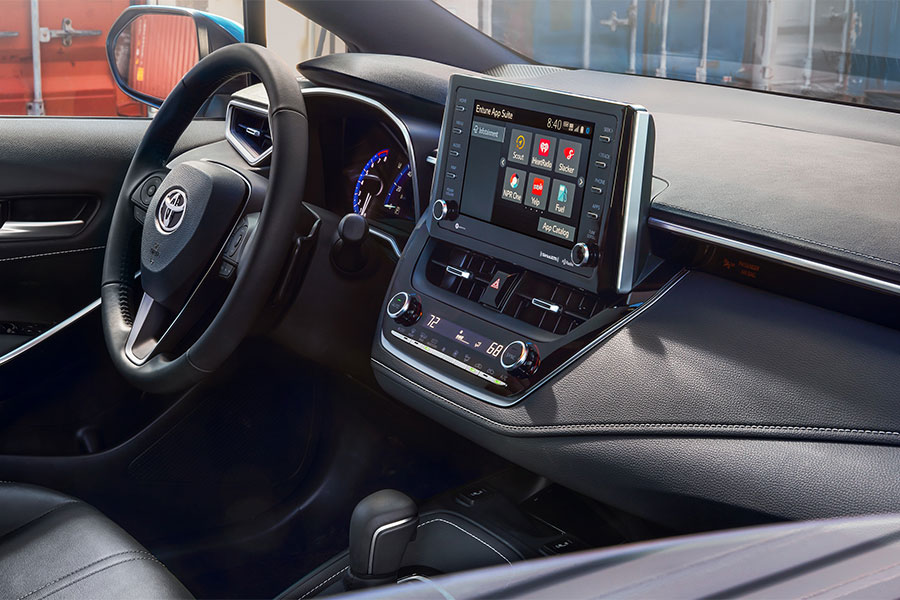 How Has the Inside of the Corolla Hatchback Changed?
The interior of the Corolla hatchback is an uncluttered design. Everything essential is in place and the superfluous is ditched in favor of a clean, modern cabin. The 7-inch digital screen stands out, as it hovers above the dash. It now comes with Apple CarPlay, though Android Auto is still lacking. Plenty of buttons on the steering wheel take care of most of the infotainment functions, which keeps your attention where it needs to stay. The front seats are well shaped and comfortable in any trim and manually adjustable in six ways. The back seats aren't spacious, like in similar Volkswagen models, but most drivers will feel right at home in the front. Behind the back seat, you'll find 17.8 cubic feet of storage, but the 60/40 folding seats offer yet more.
How Does the Corolla Hatch Drive?
Under the hood sits a new 168-horsepower 2.0-liter inline-four engine. Toyota remains committed to more reliable, naturally-aspirated engines even if they don't have the power of turbocharged engines. The 2019 Corolla Hatchback comes as a manual or automatic. Any problems with the electrically-assisted power steering have evaporated. Turning and shifting are both smooth as butter. Quality is evidenced in the driving experience, even as Toyota keeps the price low, a sunny $19,770. Ready for a ride?