2018 Toyota Tacoma vs Chevrolet Colorado
2018 Toyota Tacoma vs Chevrolet Colorado
Unlike the more crowded pickup truck class, compact pickups are fewer and farther apart. The Toyota Tacoma, Chevrolet Colorado, and Honda Ridgeline are arguably the best in the class. The Ridgeline is a more casual competitor, trying to pick up errand-runners and yardworkers. If you're looking for something small that still has more than a little muscle, you're probably weighing the Tacoma and the Colorado. In this comparison guide, we'll put them side by side and discuss their strengths and weaknesses.
Payload and Towing Capacity: Tie
Let's put to rest the idea that compact pickups can't do dirty work. These trucks were made for hauling and that's just what they'll do. The 2018 Toyota Tacoma has a maximum payload capacity of 1,620 pounds, just twenty pounds more than that of the Chevy Colorado. And they are both capable towers. The Tacoma tows a maximum of 6,800 pounds while the Colorado can pull up to 900 pounds on top of that.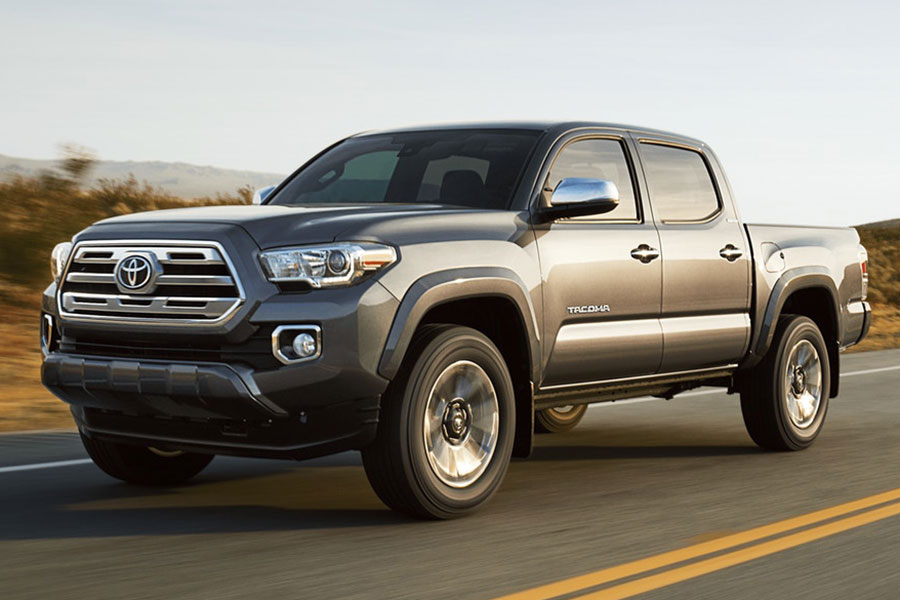 Reliability: 2018 Toyota Tacoma
Both the Tacoma and Colorado have an identical warranty: three-year/36,000-mile basic warranty and a five-year/60,000-mile powertrain. But the Tacoma blows the Colorado out of the water in terms of reliability. The Toyota has a near-perfect 4.5 out of 5 score. Meanwhile, the Colorado's score is simply average: 3 out of 5.

Off-Roading: 2018 Toyota Tacoma
All the power in a smaller frame comes with a lot of potential for fun. If you plan on taking your compact pickup off-roading, you'll want the Tacoma. Any trim level gives you a worthy off-roader, but if you really want to maximize the experience, get one of the TRD trims. The TRD Off-Road is the least expensive of these and comes with skid plates, electronic locking rear differential, off-road suspension with Bilstein shocks, and Terrain Select system. Meanwhile, the Colorado is a capable off-roader, which can be enhanced with the Z71 or ZR2 trims, but the Chevy doesn't have the off-roading chops of the Tacoma.
When going over the compact pickup options, feel assured that they're tough enough for most buyers. The 2018 Toyota Tacoma is an especially reliable and powerful off-roader.