2017 Toyota Yaris vs Nissan Versa Note

With the gas mileage of a compact sedan, but with more interior and cargo space, a smaller hatchback, like the 2017 Toyota Yaris or the 2017 Nissan Versa Note, is going to be your best bet. With so many cars that are so similar, make your life a little easier and let us compare these two vehicles for you.
2017 Toyota Yaris vs Nissan Versa Note
Safety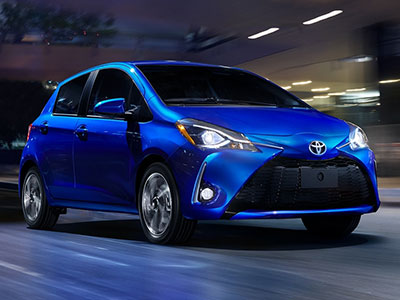 Safety isn't just crash tests now, because most vehicles perform well because buyers expect it. Now, the safety credibility also comes from the features that each model offers. The Nissan comes with an impressive 360-degree Aroundview Camera, which allows you to see what is happening around you on every side. This bird's eye picture is displayed on the touch screen, making it great for parking and even better for backing out when your visibility is limited.
The Yaris doesn't come with an Aroundview monitor, but it comes with something a little more helpful on the road. The Toyota's Lane Departure Alert signals that you are drifting out of your lane with both visual and audible warnings to help you avoid an accident. The Pre-Collision System will also warn you of potential collisions. If you don't stop, the brakes will be applied for you to help you avoid the collision or reduce impact. These features give the Yaris the edge in the safety department.
Technology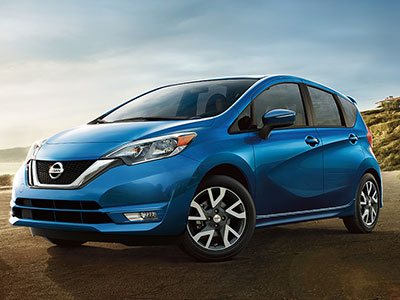 Technology can help keep us safe or it can put us in more danger, especially with more drivers needing to stay connected while on the move. With the Yaris's Bluetooth system, you won't need to be fiddling with your phone to make a call. The Bluetooth capability and steering wheel controls help you stay in touch while your eyes stay safely on the road and your hands stay on the wheel. Your music can also be streamed via Bluetooth or controlled on the touch screen, helping you customize your commute.
The Nissan has these tech features and more. NissanConnect takes the normal Bluetooth technology to another level. With this system, your car can also connect with your smart phone and allow you to run some of your apps via the touch screen. Want to take a look at the upcoming traffic? No problem–it'll be accessible on your screen. The impressive NissanConnect system, along with hands-free streaming and calling, make the Versa Note the winner in this category.
Styling Options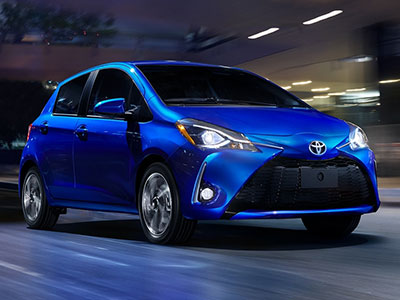 The Versa Note is a 5-door vehicle, essentially a sedan with a hatchback. The four doors makes getting in and out of the vehicle easier, and the hatch makes the cargo area more accessible and adaptable. It's inherently practical, but it's not necessarily a head turner.
The Yaris offers buyers two body style options: a 3-door or a 5-door. If you don't need the practicality of the four passenger door, the sleeker, sportier 3-door option has definite appeal. Whether or not the 3-door option is the choice for you, we like that the Yaris has this extra option.
Extras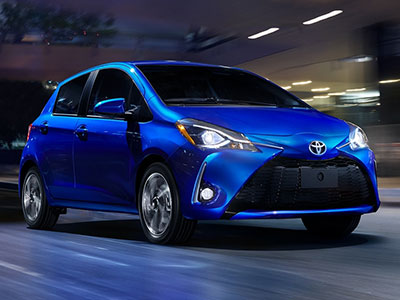 Every new Nissans, the Versa Note included, come with a 3-year/36,000 mile warranty. You can have confidence in knowing that they stand behind their products and peace of mind knowing that nearly everything is covered.
Toyota offers the same warranty, standing behind their new cars. Toyota goes the extra mile, though, with ToyotaCare. With ToyotaCare, for the first either 2 years or 25,000 miles, Toyota will give you your scheduled maintenance and roadside assistance for free. With that extra perk, the Yaris is miles ahead.
Learn More about the Toyota Yaris

Versatile. Unique. Safe. Stylish. It's hard to beat an affordable vehicle that can be described that way, but the 2017 Toyota Yaris can do just that. Offering buyers options and giving them extra options that keep them safe, the Yaris is the clear winner here.