2017 Toyota Yaris vs Honda Fit

If you're looking for a vehicle with a smaller body size but one that keeps the space inside and adds some style, a hatchback may be the right choice for you. Two of the best on the market right now are the 2017 Toyota Yaris or the 2017 Honda Fit–but which one is the best choice for you. Both of these small cars will give you more cargo room, more head room in the back seat, and more options than their competitors. Before you decide which of these two to go with, take a look at our comparison guide.
2017 Toyota Yaris vs Honda Fit
Fuel Efficiency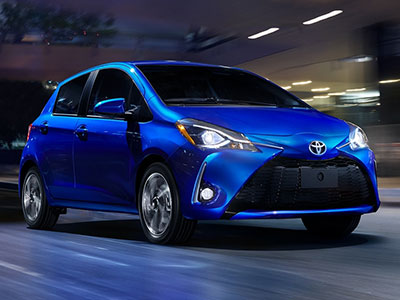 If you're buying a compact car, you're probably looking for some dynamite fuel efficiency.The great thing about cars this size is that they save you money at the dealership and at the pump. The mileage for the Fit is great. It provides an average of 36 miles per gallon highway. That's about double the mileage you can get in some other cars, including the ever-popular SUVs.
The Yaris will get you the same 36 miles per gallon highway, but it gives you just a little more in the city. With 30 mpgs to the Fit's 29, the Yaris just barely pulls ahead in the race for the best mileage.
Safety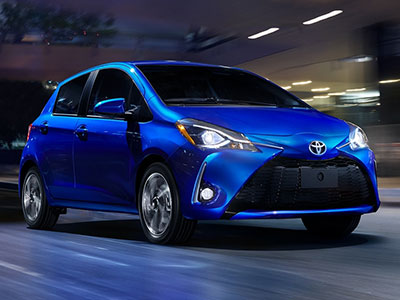 With more and more drivers on the road, more accidents happening. You have to feel safe in your car. The Honda Fit offers features to help, including a back-up camera to help avoid being help you get out from in between the two big SUVs on either side of you in the parking lot. It also has a Lane Watch camera for lane changes to avoid your blind spot.
The Fit features are great but the Yaris comes out on top again. The Yaris one-ups the Honda Lane Watch camera with a lane departure alert system to let you know when you're starting to wander. The Pre-Collision System will look out for you to warn you when a collision is fast approaching, move the brakes closer to help you stop, and will even begin applying the brake for you.
Technology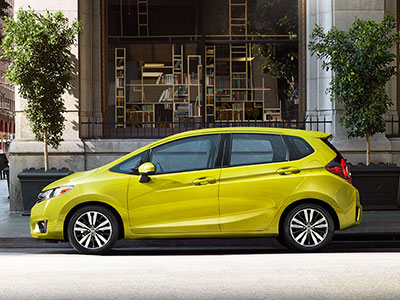 Technology is playing a bigger and bigger role in every part of our lives and it's extending to our cars. The 2017 Toyota Yaris doesn't disappoint. Its Bluetooth capability allows you to connect your phone to make calls and stream music hands-free. You can also plug in your phone to the USB or AUX ports to connect your music.
The Honda Fit moves you a little farther into the tech future in the Fit. With HondaLink, you're also able to connect to your smart phone, but you can do a little more with it. HondaLink lets you run some of your smart phone apps through the touch screen so that you can look up traffic, weather, or coffee shops that are coming up. The Fit also gives you a larger screen for the price.
Warranty and Extras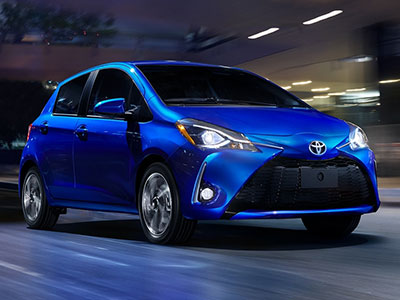 A company's confidence in their product, and their desire to make things easier for their customers, can affect the decision we make. The Honda Fit comes standard with a 3 year/36,000 mile warranty to cover anything that goes wrong within that time frame. It's that warranty that pushes us to buy new cars instead of used, and this one gives buyers peace of mind.
The Yaris has the same warranty but comes with a little something extra. You don't just get the standard warranty–you also get, with the purchase of a new Yaris, 24 hour Roadside assistance and 2 years/25,000 mile No-Cost scheduled maintenance. That includes your scheduled oil changes, filter changes, tire rotations, and more. If that doesn't make you feel appreciated, we're not sure what will. This round definitely goes to the Toyota.
Learn More about the Toyota Yaris

A hatchback is fun, stylish, and offers more accessible space than its sedan sibling, so making that choice seems easy. But when the market is full of such great hatchback options, choosing between them may not be as simple. The 2017 Toyota Yaris edges out the Honda Fit in the ways that really matter–fuel efficiency, overall savings, and safety–making it the easy choice here.