2017 Toyota Tacoma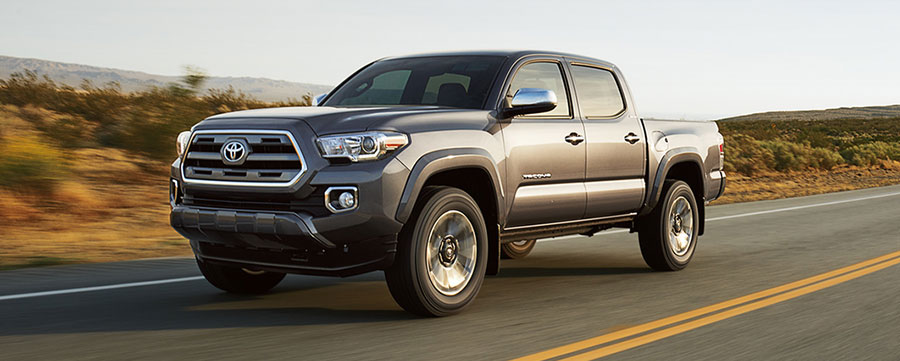 Take your off-road ride to the next level with the 2017 Toyota Tacoma, which supplies dune-plowing traction and an all-around dependable performance. And, of course, it does great work when you need to tow or haul anything from heavy construction materials to your favorite sporting equipment, pairing that rugged work with interior refinement.
2017 Toyota Tacoma
When you choose the 2017 Toyota Tacoma, utility is the last thing you will ever have to worry about. Under the hood, the 3.5-liter V6 engine produces 278 horsepower – that's up 42 horses from the old 4.0-liter V6. With that kind of power, you can load up the bed with two-by-fours, gallons of paint, and other home-improvement supplies and haul them home with minimal effort. Properly equipped, the Tacoma can tow up to 6,800 pounds, making the Tacoma an equally great pick for small businesses with a need to tow heavy equipment or pallets of supplies.
The Tacoma wasn't just built to last – it was designed to help you take on the off-road with confidence. Add four-wheel drive to any Tacoma model and you've got a rugged beast on your hands. However, if you want a ride that goes where other trucks fear to tread, check out the Tacoma's off-road specialists: the TRD Sport, TRD Off-road, and the new TRD Pro. These models build on the Tacoma's excellent ground clearance and proficient engine power with rugged gear, including Bilstein shocks, which absorb serious jolts as you travel through boulder fields and uneven ground. The advanced off-road traction control system includes crawl control, increasing precision as you move through mountains.
In the safety game, the 2017 Toyota Tacoma is a strong contender. The Insurance Institute for Highway Safety gave the Tacoma its top score of "Good" in a number of crash tests. As you drive around, the blind-spot monitor keeps you updated on any vehicles that might've crept outside of your line of vision. Use this technology to help you safely switch lanes in heavy-duty rush-hour traffic, while the cross-traffic alert feature also helps you avoid accidents. As you pull out of a parking space with limited visibility, the system warns you of any vehicles headed in your direction.
Although it's certainly rugged on the outside, the 2017 Toyota Tacoma is spacious and serene on the inside. Front seats are finely contoured for around-the-clock support, making the Tacoma is an excellent road trip companion. The cabin's central touchscreen impresses with its large virtual buttons; it doesn't divert your attention from the road ahead. With the premium Entune audio system, you can access navigation features using voice commands – a feature that comes in handy when you want to reroute but don't want to look away from traffic.

Tacoma TRD Pro
In the world of mid-size trucks, the 2017 Toyota Tacoma TRD Pro is reigning king of the off-road. With standard four-wheel drive and a barrage of rugged hardware, this pickup is ready for action whenever you are. The traction management system maximizes performance over difficult terrain, helping you make the most of sand, snow, or mud. Inside, it treats you to endless luxury, including exclusive heated leather seats with handsome red contrast stitching. These keep you snug and supported throughout your spirited off-road adventures.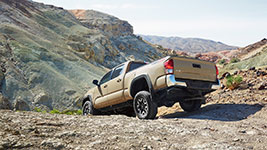 Mountain-Climbing Capability
Rugged territory is no match for the Tacoma.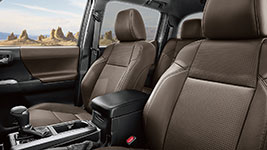 Supportive Seating
When you've got places to be, the Tacoma gets you there with comfort to spare.
GoPro Mount
Recording your adventures is as simple as clicking your GoPro camera into place.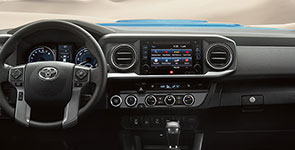 Entune Premium Audio
Voice controls give you quick access to audio options and turn-by-turn navigation.
Conclusion
The 2017 Toyota Tacoma is, first and foremost, a capable mid-size truck that tows and hauls heavy loads on demand. But it's much more than that – and it's an especially great pick for anyone itching to tour rugged off-road country. Its impressive ground clearance and capable four-wheel-drive performance make it an excellent candidate for adventurous drivers, with an interior that will impress.