2017 Toyota Sienna

Young children don't tend to have posters of minivans on their bedroom walls, let's be honest, and the reasons are entirely obvious. However, just because they don't have the mystique, desirability, and flair of an Italian supercar doesn't make them any less relevant. In fact, family buyers who have more than five people to ferry around on a regular basis are extremely loyal to the minivan as they love the versatility, flexibility and convenience they offer. In a practical, smart class like the minivan, the 2017 Toyota Sienna is one of the best.
2017 Toyota Sienna
Interior and Exterior Styling
Let's be honest: there's only so much designers can do with the exterior of a minivan. Their passenger-carrying capability means their inevitably boxy shape is never going to attract buyers away from muscle cars. But muscle cars and minivans are apples and oranges, and the reality of a minivan's practicality doesn't give automakers a free pass to design a large metal box on wheels. The Sienna is as stylish and aerodynamic as any minivan out there, and a whole lot more desirable than many. With a sporty grille and a little spoiler flair, the Sienna adds some personality to the standard minivan shape. But it's inside, not the outside, where the style really shines and where Toyota's blend of style with versatility and practicality is seamless. A smart-looking infotainment control center makes you feel like you're in a cockpit rather than a minivan, with everything from A/C controls to smartphone sync options right at your fingertips, while the available entertainment system offers widescreen entertainment to passengers. Add into the mix plenty of quality materials that are tastefully deployed throughout the cabin, and you'll soon see the interior of the Sierra is an incredibly nice place to be.
Practicality
The 2017 Toyota Sienna isn't just one of the most stylish minivans in today's market; it's also one of the biggest too. When you're talking minivans, big is good, especially when it translates into genuine eight-seat passenger capacity like in the Sienna. If you only need five seats the third-row can be folded away to reveal an enviable amount of cargo space, and the second-row seats can be moved out of the way to accommodate the occasional bulky load when you're not ferrying around a whole load of people. The 2017 Toyota Sienna offers plenty of storage throughout with twin glove boxes, a deep center console, map and side pockets, and other cubby holes. Of course, the best part of the minivan is the large, outward-opening side doors that make getting in and out of the Sienna a breeze.
Trims and Engine
Minivans don't need massive engines, since they obviously have a pretty clearly defined role as a people hauler. What they do require, though, is an engine powerful enough to handle the considerable weight of a full load, and the Sienna has that covered. The engine here is a 3.5-liter V-6, which develops a very healthy 296 horsepower and 263 lb.-ft. of torque, and the power is sent to the front or all-four-wheels through an electronically controlled automatic transmission.
The 2017 Toyota Sienna offers five trims to choose from: the L, LE, SE, XLE and Limited. However, there are also Premium versions of the SE, XLE and Limited trims, so it could be said that there are actually eight.

Sienna Comfort and Features
It would honestly be easier to tell you what isn't available in the 2017 Toyota Sierra rather than to rattle off all of the options that the 2017 Toyota Sienna offers. The base L model comes standard with: 17-inch wheels, tri-zone climate control, a rearview camera, seven-passenger seating, a 3.5-inch driver information display, and a 6.1-inch touchscreen for operating the infotainment system that includes Bluetooth connectivity. From there things just get better and better, and Limited Premium models really have to be seen to be believed. Every trim is comfortable with a luxurious feel, to the point where you might get a bit edgy about potential spills and chocolaty handprints, especially in higher trims. If you're all in for a luxury minivan, you'll find options here, but you'll also find comfortably equipped options with the base model-and a bit less stress about real life scenarios that come with family travel.

Sport-tuned Suspension
Believe it or not, the Sienna is a minivan that's actually easy, comfortable, and enjoyable to drive.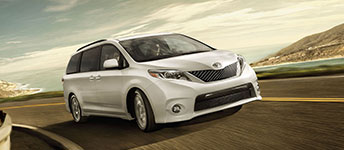 Available All-Wheel Drive
Extra capability of all-wheel drive available with the Sienna, but that can't be found with its competitors.

Wide Choice of Trims
With as many as eight trims available, there's a Sienna to suit a wide variety of budgets and buyers.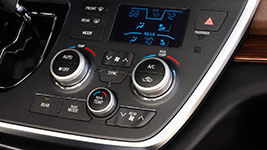 Easy, Convenient Tech Controls
All the infotainment, connectivity, and other technology are easy to access on the go
Conclusion
If you don't need the versatility, flexibility and capability of a minivan and you can manage perfectly well in life with a two-seat roadster, you're unlikely to get excited about the Sienna. The minivan is a special vehicle for a special purpose. However, if you do need a vehicle with seating for up to eight that's easy to enter and exit, has lots of storage for all the stuff that comes with so many passengers, and looks and drives really well, the 2017 Toyota Sienna is a standout choice.