2017 Toyota Highlander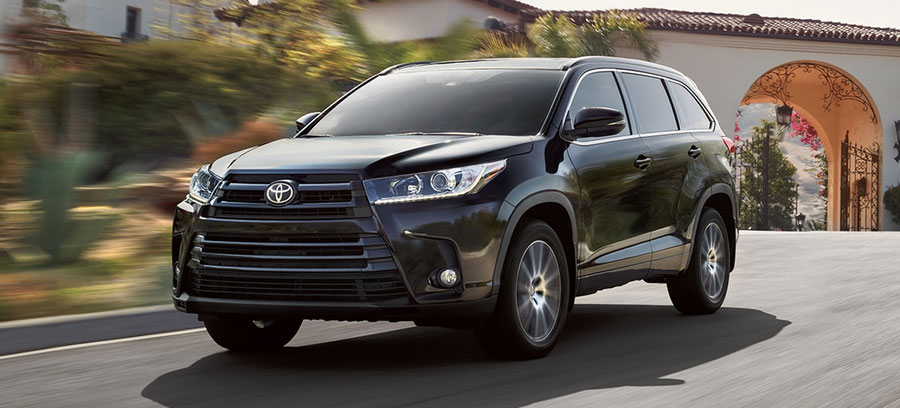 With eight seats, impressive towing capacity, and all the infotainment trimmings, you're definitely going to want to take your next road trip inside the 2017 Toyota Highlander. All three rows provide family-sized space, so kids of all shapes and sizes fit comfortably in the cabin, while the Highlander's dependable performance and maneuverability makes everything from light trails to highway traffic easy.
2017 Toyota Highlander
There's so much to like about this three-row SUV that it's almost impossible to know where to start – but we'll go with its adroit handling and 5,000 pounds of towing capabilities. Hitch up your boat and head to your favorite fishing spot whenever you please. Add all-wheel drive for enhanced traction as you voyage away from the pavement and into the great outdoors. Even if you plan to spend all day on the highway or cruising around town doing errands, you'll find that the 2017 Toyota Highlander provides impressive handling. In this segment, the Highlander's steering precision is as good as it gets, bringing you around sharp corners in a dependable fashion. For such a spacious SUV, it's not bad on gas, either, earning an impressive 20 city/27 highway mpg.
As full-size SUVs go, the 2017 Toyota Highlander offers the perfect amount of space for big families. With eight seats and a versatile cargo hold, it's easy to transport everyone and their essential belongings. All three rows have a well-deserved rep for plush support, so spending hours on the road is never the least bit uncomfortable. Up front, the Highlander is especially luxurious, as the heated seats feel almost like your living room recliner. And – speaking of luxury – the cabin stifles wind and road noise like a pro, so you'll always enjoy a quiet cruise.
As you travel through the mean streets with your entire family in tow, you obviously don't want to be sweating over safety. Toyota knows this, and they've made passenger protection a major priority for the 2017 Toyota Highlander. In government crash tests, it earned a perfect five-star safety for overall protection. The Insurance Institute for Highway Safety gave the Highlander its top score of "Good" in a number of crash tests. The forward collision prevention system, which detects a collision and automatically applies the brakes, earned a rare IIHS score of "Superior." Best of all, the forward collision warning technology is standard for all Highlander models – no need to pay extra.
These days, some of us may feel like we can't get far without tech features. If that's you, the Highlander has your back, with a navigation system that keeps you from getting lost and a responsive central touchscreen whose high-res graphics won't divert your attention from the road. When you add the rear-seat entertainment system, you can keep a herd of kids happily entertained for the long haul.

Highlander Hybrid
Make life a little greener with the Highlander Hybrid. It takes the regular Highlander engine and pairs it with three electric motors to earn up to 30 city/28 highway mpg. That's quite a big difference in around-town driving. If you're the type who gets stuck in gridlocked urban areas just about every day, the Highlander Hybrid is definitely worth a test-drive since it takes traffic woes and turns them into better fuel economy.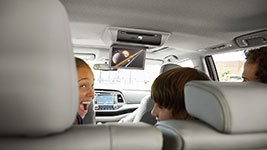 Rear-Seat Entertainment
There's no need to be bored on long trips – pop in a DVD and hit the road in style.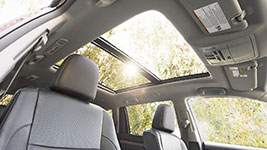 Panoramic Sunroof
The Highlander is more than spacious – it's full of sunshine.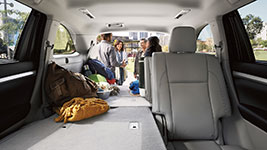 Versatile Cargo Space
Flip some – but not all – of the seats down to create a little extra loading space.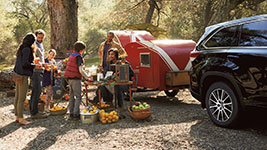 Strong Towing Performance
Haul your boat or Airstream into the great outdoors every single weekend.
Conclusion
With so many rugged features and family-friendly features, it'll be easy to make memories in your 2017 Toyota Highlander. Pack up all your gear, hitch up your boat, and head to your favorite water spot every weekend. The cabin's spacious seating is the perfect place to spend a few hours on the road – especially with the rear-seat entertainment system in play. The 2017 Toyota Highlander combines family-friendly features with performance that will impress.