2017 Toyota Avalon Hybrid

With the 2017 Toyota Avalon Hybrid, you get all the usual goodies that come with a full-size sedan – a roomy cabin, spacious trunk, tons of convenience features – but with one major improvement: incredible fuel economy. No other sedan on the road is quite like this; the Avalon Hybrid's competitors are all smaller, mid-size sedans. For true spread-out space and on-road refinement, there's no better hybrid option.
2017 Toyota Avalon Hybrid
Once it was the case that better fuel economy meant less luxury. But the 2017 Toyota Avalon Hybrid signals a new era where drivers no longer have to compromise. This sedan is spacious, refined, and packed with road-trip-friendly features. Throughout the cabin, you'll find high-end materials that make you feel like you've spent big bucks on a Lexus. Whether in the front or back, you can settle into these plush seats and never lack for head or leg room. And, in spite of the hybrid battery pack, the trunk impresses with its luggage-ready trunk, which supplies a healthy 14 cubic feet of space.
This sedan also supplies sophisticated tech features to keep you connected on the run. All models come with the 7-inch touchscreen interface and voice controls, both of which give you quick and easy access to features like hands-free calling. When you add the Navigation and App Suite, smartphone integration is that much more seamless. You can even access apps like Yelp on your central touchscreen, so it's easy to find all the best local restaurants and bars, no matter where you travel. And, with the e-Bin, Toyota seems to have thought of everything. The e-Bin is a great place to stow your devices, and it also includes 12-volt USB outlets to charge them. If you add the Qi wireless smartphone charging pad, this is where you'll find it.
In the 2017 Toyota Avalon Hybrid, your safety is top priority. This year, all models come standard with the Toyota Safety Sense package, a suite of features that includes forward pre-collision warning and mitigation. When it senses an oncoming crash, this technology is quick to apply the brakes, protecting you from danger and even mitigating damages. The package also includes pedestrian detection, a handy feature if you're travelling through a busy downtown area at night. When you add the Safety Connect services, you expand your safety net to include features like roadside assistance and automatic collision notification. If the worst should happen, you'll be ready to deal with it.
The first thing you'll notice about the 2017 Toyota Avalon Hybrid is how much you can save at the pump. It achieves 40 city/39 highway mpg – unheard of ratings for such a roomy sedan. But the Avalon Hybrid also provides a strong performance. When it's time to merge into a busy three-lane highway, this full-size sedan is quick to comply with your request for extra speed. Around tight corners and down winding roads, the Avalon Hybrid always inspires complete confidence with its responsive handling.

Avalon Hybrid Limited
The Avalon Hybrid Limited means luxury and efficiency combined. In the Limited, you'll get leather-trimmed heated and ventilated front seats, Quadrabeam headlights, power rear sunshade, rear climate control, and heated rear seats. You'll also enjoy the Safety Connect package as well as the Entune system, complete with the 11-speaker JBL audio system and voice-activated navigation.

Aggressive Exterior Styling
The Avalon doesn't shrink from its position as a premier sedan, with a strong front fascia and sculpted styling to impress.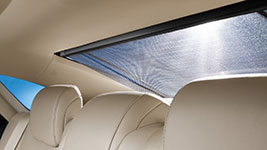 Leather Seating
This available seating can come equipped with heated and ventilated options as well.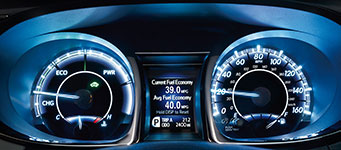 Customized Hybrid Gauges
Keep track of your engine efficiency and your speed at a glance with your customized gauge console.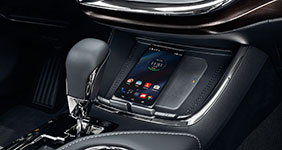 eBin
Stash your smartphone and, with Qi-compatible wireless charging, adopt a cordless lifestyle while on the go.
Conclusion
If you want a full-size sedan that combines on-road refinement with class-leading fuel economy, the 2017 Toyota Avalon Hybrid can't be beat. It supplies moneysaving efficiency without ever shorting you on luxury features – including rich leather upholstery and cozy heated seats. This is a hybrid that your whole family will enjoy. Its smartphone integration and infotainment features are the perfect way to stay connected without getting distracted from traffic. And, with standard driver aids like pre-collision warning and mitigation, you'll stay extra vigilant on the highway.