2017 Toyota 4Runner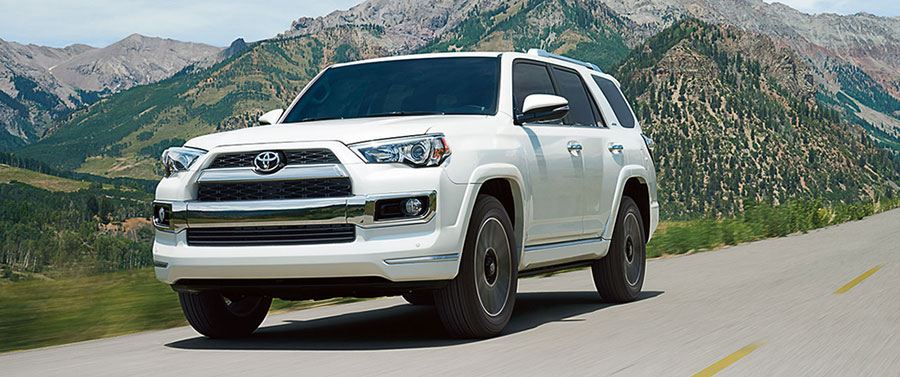 The 2017 Toyota 4Runner has a storied history, and this throwback to the early years of SUV styling gives car buyers a stylish breath of fresh air in a market that may seem, well, stylistically similar. Now classified as a midsize SUV, the 4Runner started its life as a compact even though it's actually one of the few SUVs on a truck body. Originally a Toyota Hilux pickup with a hard cover over the bed, the 4Runner offers buyers something different. If you've wanted to take the jump into the SUV market, but don't like feeling like you're driving the same thing as everyone else, the 2017 4Runner is your capable, rugged, smart alternative.
2017 Toyota 4Runner
Styling
There's no point beating around the bush: you're either going to love or hate the way the 2017 Toyota 4Runner looks, and that's a huge part of its appeal. In a market where it's becoming increasingly difficult to tell one automaker from another, never mind model from model, the Toyota 4Runner stands proud as a genuine alternative to stylistic deja-vu. Choose between trims that offer everything from a chunky, retro charm to an overtly hardcore, trail-ready off-roader, neither of which can be easily confused for any other vehicle on the road. If you are less interested in stylistic points, and prefer real performance and uniqueness, you're going to be more than safe with the 4Runner.
Engine and Performance
The 4Runner is very much a no-nonsense vehicle, and that fact is magnified by the single powertrain that comes standard in all versions. A 4.0-liter V-6 engine with 270 horsepower and 278 lb.-ft. of torque, the 4Runner uses a five-speed automatic transmission to navigate everything from the carpool and commute to the off-road weekend adventure. Despite the Toyota's modest exterior proportions, the 2017 4Runner tips the scales at a hefty 4,750 pounds; you're not going to be winning too many drag races, but that's not the point of the 4Runner. This is a vehicle designed to get you comfortably and capably across some very harsh conditions when needed, and that's a job it handles with supreme confidence and ability.
Capability
This section is for the weekend warriors, who really don't want a pretty, dainty SUV. In this current fifth-generation incarnation, the 4Runner utilizes a ladder frame chassis that's a distant cousin of the Tacoma, but the suspension used is a more comfortable coil spring arrangement that keeps the old-school solid rear axle in place. Want more power and possibility? Try the TRD Off-Road variants, with a sophisticated Kinetic Dynamic Suspension System that uses hydraulics to either tighten its enormous sway bars for better on-road handling or to loosen them to meet the needs of an off-road environment. When you step up to the TRD Pro models, though, that technology gets swapped for a high-travel Bilstein-branded setup designed to cope with the most severe off-road duties. Add in a maximum towing capacity of 5,000 pounds, and it's obvious that the 2017 4Runner is a seriously capable performer on all surfaces.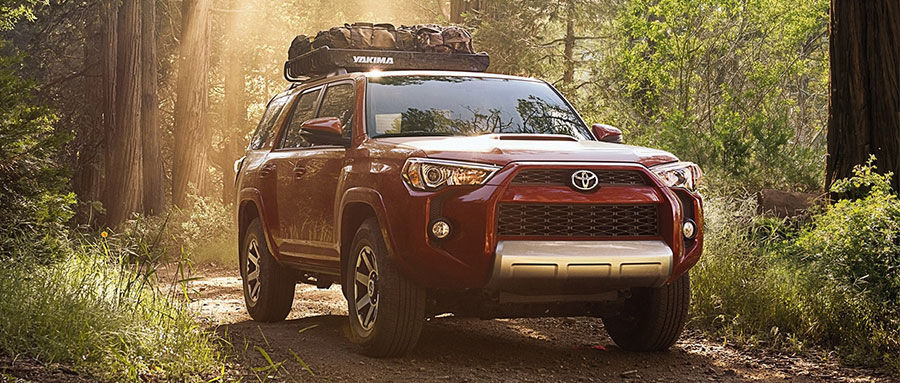 4Runner Features and Equipment
Although there's an undeniable retro charm about the 2017 Toyota 4Runner, it's not shy about combining its old-school flair with the very latest tech, especially if you're prepared to pay a little extra. A quality infotainment system is standard, and the majority of models also get navigation to enhance those all-important outdoor adventurer credentials. Toyota offers a wide and diverse lineup of trims so you can tailor your 4Runner to suit your own style, personality, and needs, but there's really no such thing as a really basic 4Runner. The Limited model goes down the comfort and convenience route with some chrome bling, leather upholstery, and heated and ventilated front seats, while the TRD Pro is an off-road focused model that's frankly able to go down just about any route you want it to.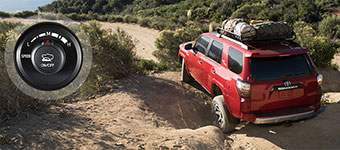 Available Kinetic Dynamic Suspension System (KDSS)
This technology allows each wheel to respond to the terrain separately.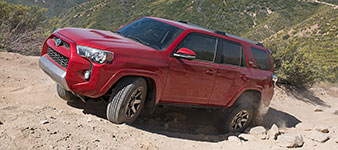 Multi-terrain Select
Drivers can choose from four drive modes to regulate wheel-spin through engine throttle adjustment settings and braking pressure.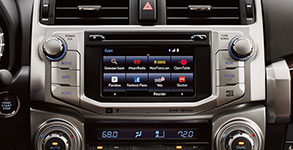 Entune Premium Audio
Integrate navigation and your App Suite to bring infotainment and connectivity together in one embedded system.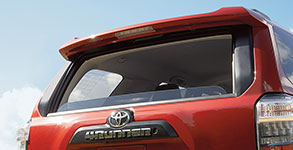 Power Rear Glass
One of the coolest retro details of the 4Runner, this push button or key-activated feature allows you to lower the rear window to bring the outdoors in.
Conclusion
If all you're looking for is a luxurious ride to the grocery store, the 2017 Toyota 4Runner isn't your best bet. But if you're looking for an SUV that can perform well in the carpool line AND on the trail, that embraces both the city life and the adventurous spirit that you have, the 4Runner is absolutely the right choice. Rugged, capable, durable, and displaying some confident retro charm, the 4Runner can cope with some impressive conditions especially given its price. And, let's be honest–even if you never take it across the Mojave Desert or through trails in the Rocky Mountains, the 4Runner will still make you look as though you intend to, and that kind of street cred is priceless.