2016 Toyota Avalon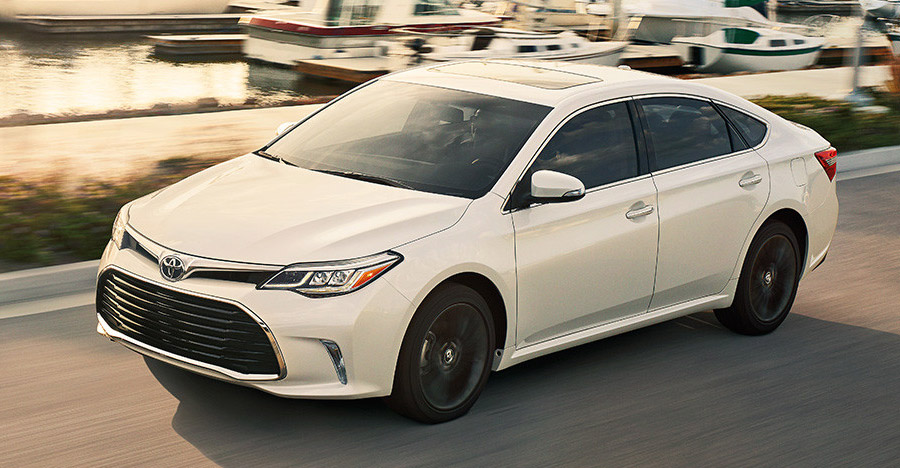 The 2016 Toyota Avalon is a striking full-size sedan, celebrated for its quiet cabin, family-friendly passenger space, and excellent fuel economy. Hands down, it's one of the top picks in this competitive segment. The cabin's light, airy style makes it the perfect place for lengthy rides. Details like classy wood trim and soft-touch materials give the Avalon a luxury feel. On the road, you'll enjoy an excellent blend of fuel economy and high-tech passenger safety.
2016 Toyota Avalon
When you crave interior luxury and supreme passenger space, the 2016 Toyota Avalon checks all the right boxes. High-quality materials are present throughout the cabin. The front seats deliver impressive side bolstering and lumbar support for ample comfort on your ride to work. The backseat offers major space for passengers of all sizes. Throughout the cabin, passengers can stow carryon items in convenient storage cubbies. The large center console doubles as an eBin, where you'll find power cord pass-throughs and a handy sliding panel that fits two smartphones. The trunk also provides substantial volume. Fill its 16 cubic feet of cargo space with everything from shopping bags to weekend getaway gear. The trunk's wide opening and low height means it's always easy to access cargo items.
In addition to a handsomely crafted cabin, the 2016 Toyota Avalon treats you to a long list of modern creature comforts. With the Entune infotainment system, you can access smartphone apps via voice control. Use the wireless charging pad to keep your smartphone ready for action. Bluetooth wireless connectivity makes it easy to link your devices to the central system. With heated front and rear seats, all passengers can weather the winter in cozy comfort. In the summer, the Avalon's rear power sunshade makes it easy to block heat rays and help keep the cabin cool.
Toyota doesn't stop with comfort and convenience. The Avalon puts a premium on passenger safety. In government crash tests, it earned a perfect five-star rating for overall protection. The Insurance Institute for Highway Safety gave the Avalon its top score of "Good." If the road turns stormy, you can use the Avalon's high-tech systems to maintain hyper vigilance. For example, the frontal collision warning system will prime the brakes if it senses an impending crash. Lane-keeping assist warns you if you've unintentionally strayed outside the proper lines. You'll also appreciate Toyota's Safety Connect services, which really come in handy in a pinch. These services include roadside assistance and stolen vehicle location.
Finally, the Avalon delivers a praise-worthy performance. The 3.5-liter V6 engine is smooth and powerful, generating 268 horsepower and 248 pound-feet of torque. The six-speed automatic sends power to the front wheels for a responsive ride. The 2016 Avalon is easy to handle in any situation, making it a prime pick for a wide range of buyers.

Avalon Limited
To make the most of your Toyota experience, check out the fully loaded Avalon Limited. It comes with everything you need – superior comfort, convenience, and safety features. The Safety Connect system is standard equipment, delivering help when you need it most. Upgraded leather upholstery gives the Limited an air of style and refinement. Ventilated front seats offer an extra dose of cool relief during the summer months.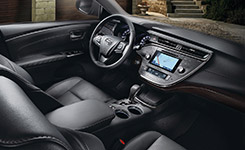 Chic Interior Style
The Avalon delivers the goods: space, comfort, and luxurious digs.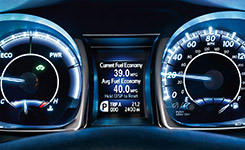 Multi-Information Display
Vital stats – current mpg, fuel supply, and turn-by-turn directions – in close proximity.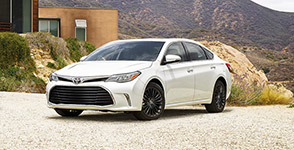 Newly Redesigned Exterior
This family-friendly sedan has never looked so good.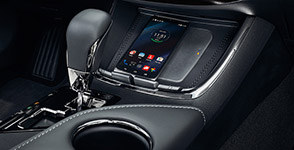 Wireless Smartphone Charging Pad
Enjoy hassle-free smartphone charging on the go.
Conclusion
The 2016 Toyota Avalon is the perfect full-size sedan, especially if you require a family-friendly cabin, fuel-efficient performance, and high-tech convenience features. Inside, you'll find ample space and premium comfort. High-tech features, like the Entune app suite, provide a link to the outside world. When it comes to safety, the Avalon never falters. Advanced systems monitor your surroundings and alert you to potential danger. On the road, this sedan has all the right moves – and saves you plenty of money at the pump. Take the Avalon out for a test drive today!