Visit the New
Swope Toyota

Located at


1085 N. Dixie Highway in Elizabethtown, KY.
Welcome to the New & Improved Swope Toyota
In response to our growing business, Swope Toyota has moved to a different location! You can now find us across the street at 1085 N. Dixie Highway in Elizabethtown, Kentucky. Here, you will have the same exceptional service previously offered but with the added comfort and convenience provided by a luxurious new place. Drivers from Elizabethtown, Louisville, and surrounding areas are encouraged to visit us and have a dealership experience like never before! Whether you are searching for a new vehicle, seeking assistance for auto finance, or receiving regular auto maintenance, we promise that your time spent with us will always be worthwhile!
A One-of-a-Kind Dealership Experience
Swope Toyota is no ordinary dealership. Our aim is to transform the automotive service experience into something more unique, going beyond what drivers expect out of the average dealership. Of course, we stay true to our roots and offer traditional services—you can still buy quality new and used vehicles and you will still receive comprehensive assistance for finance and maintenance—but you will also enjoy the benefits of a relaxing environment, completely furnished with an upscale lounge area and fireplace overlooking the Freeman Lake. As expressed by Kathy McCubbin, Vice President and General Manager of the Swope Family of Dealerships, "There's nothing better than when you walk into a place and you feel at home," and that is exactly the kind of exalted atmosphere you will experience at our new location.
About Us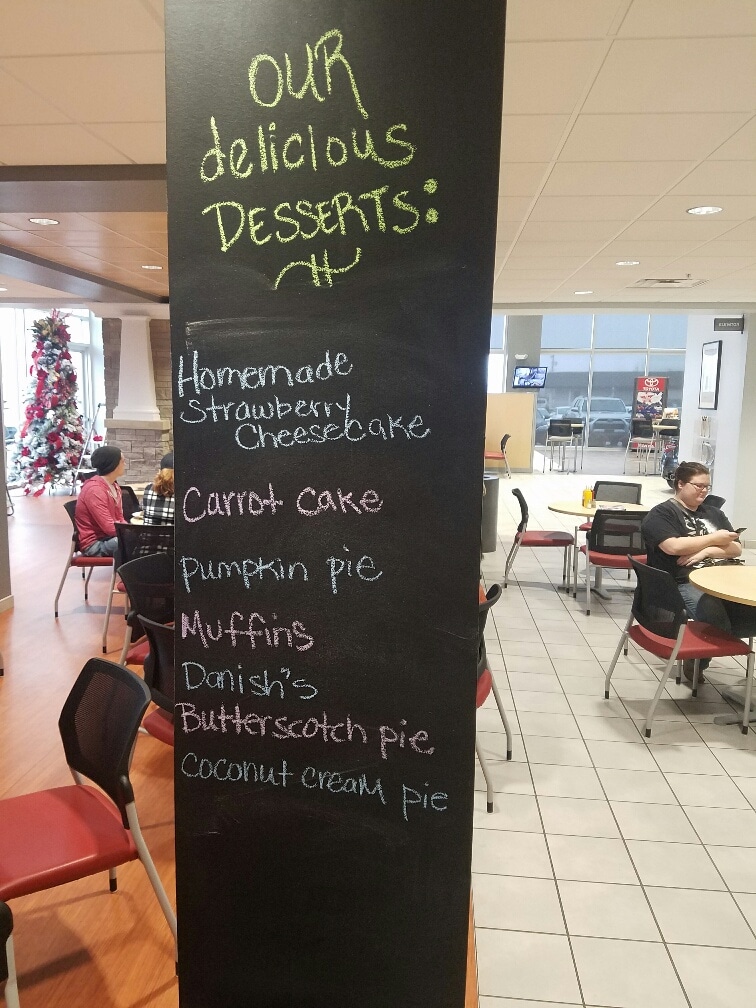 Treat Yourself to The Cafe @ Swope Toyota
The success of this outstanding experience at our dealership is in large part due to our world class cafe known as The Cafe @ Swope Toyota. In fact, this exciting addition was praised in an article about Swope Toyota featured on The News-Enterprise by author Anna Taylor, who writes that this addition creates "a new dimension to [the] environment." At this café, you can enjoy staple comfort food as well as daily specials. The menu includes robust Espresso drinks, delectable desserts, various snacks, sandwiches, soups and more! You can even try our beloved pies that are famed throughout the Swope Family of Dealerships! With so many delicious treats to choose from, we're sure you'll enjoy your time at our dealership.
A Dealership You Can Depend On
At Swope Toyota, it is our goal to provide automotive service that exceeds all standards. As such, our lots are stocked only with the latest and greatest models, and our staff consists only of the friendliest and most competent members. When you visit our dealership, you will see for yourself how passionate we are about the industry. We are happy to share our knowledge and experience so that you can make the best decision when it comes to your personal auto needs. But why take our word for it? Below is a message written by one of our loyal customers:
Do you ever just long for home? Long for the familiar smells, faces, warmth? Long for what once was but has been forever changed? I've been longing for that quite a bit since my family's farm sold.
I've run into Mr. Carl Swope and his beautiful wife at Kroger shopping for groceries just like me. I've run into Mrs. Kathy McCubbin, GM, and Brian Lawson, Mechanic, at church worshipping just like me. I've run into Kristy Fulkerson, Service, at Hobby Lobby shopping just like me. Many of my friends still message me about vehicle searches.
The truth is some people just never leave us no matter where life takes us, and as our lives change and our surroundings evolve so our definition of home expands.
The heart of Swope Toyota runs through our community and the works done by employees go without trumpet because that's what genuinely good people with good hearts do. And just like me...and you...the Swope Toyota employees live, worship, and shop in our town.
In my longing I found myself standing in awe of a grand new building that I wondered if upon entering would feel anything like home, and as I stood there lost for adjectives my children and I were welcomed by familiar friendly faces. As I meandered to the grand fire place I noticed how the embers sparkle like diamonds but as I looked through to the other side I noticed a couple snuggled up contently. When I began reading the menu of The Cafe @ Swope Toyota my mouth began to water in remembrance of dishes Grandma and I have enjoyed. I gazed over next to me to see a soldier quietly working. My mind could not begin to do justice describing what Swope Toyota has created, and when I turned around I found my girls playing contently in the Kidz Korner. Upon reading their words I knew I didn't have to attempt to describe anything to you at all. "Toyota loves you" and "I love it so much"!
Toyota does love you. The Swope Family loves you. So much, in fact, that when life changes your definition of home they've invested in a new home where you are welcome. So come on in, grab some pie, cuddle up by the fire, and get some work done on your laptop. And oh yeah, the service department is STILL great and if you happen to be in the market for a vehicle you'll be hard pressed to find better treatment.
~Sunday Sue Stiles (Just Checking In) - at Swope Toyota.
A Great Experience is Waiting for You
The message above is just one of many Swope Toyota Testimonials left behind by our customers. Their satisfaction is a testament to the incredible experience we provide. We are a dealership that you can depend that drivers in Elizabethtown, Louisville, and surrounding Kentucky areas can depend on! So do yourself a favor, and the next time you consider going to a dealership, reward yourself to a great time with us and come to our new location at 1085 N. Dixie Highway in Elizabethtown, Kentucky!